Median Home Values
Get Your Custom Home Value Report
Seller Tips
Seller Challenges
The True Costs of Home Improvements and the Benefits  of Home Remodels

Project: Kitchen Remodel – Cost $15,000 to $20,000 – Value Added to your home is 80% to 110%
Cost includes new cabinet, new countertops, rewiring, structural changes, relocated plumbing, custom cabinetry, and top of the line appliances.
Project: Bathroom Remodel – Cost $7,000 to $10,000 – Value Added to your home is 80% to 115%
Cost includes new fixtures and fittings, tile floors and walls, structural changes, and relocated plumbing. High end materials and fixtures raise the cost. Note: Adding a second bath can yield more than 100% in resale value.
Project: Room Addition – Cost $30,000 to $40,000 – Value Added to your home is 50% to 115%
Cost includes depend on the room. A family room or new master suite will add much more value to a home than a private office or fourth bedroom.
Project: Converting an Attic/Basement – Cost $15,000+ – Value Added to your home is 25% to 40%
Cost includes depend on the project. Value added depends on size of house (smaller house = more value). Type of space created (family room or bedroom: more value than a game room or exercise area).
Project: Adding a Deck – Cost $10,000+ – Value Added to your home is 40% to 60%
The warmer the climate the more value added. Size of deck, complexity of design, and added amenities (spa, trellis work) influence cost.
Project: Repainted Exterior – Cost $1,200 to $5,000 – Value Added to your home is 40% to 60%
Assumes old exterior was worn and repainting was done immediately prior to putting house on the market. A new coat of paint adds the best profit when selling an older home.
Project: Pool Addition – Cost $20,000 to $50,000 – Value Added to your home is 20% to 40%
Cost assumes an average size pool (16′ x 32′) in a rectangular shape (banks don't generally consider pools in mortgage appraisals).
Which Home Improvements Pay Off?
by Kathy Mcleary
In the first year my husband and I lived in our house, we spent almost $20,000 on home improvements. When we set that money aside at the beginning of the year, we dreamed about granite counters and steam showers; what we ended up with was a new furnace, new gutters, a drainage system to keep the basement dry, new landscaping and lots of new paint. At the end of that year as I wiped down my tacky Formica countertops and bathed in my 1950s seafoam green tub, I wondered if we had spent that money wisely. If we had put our house up for sale, would potential buyers have really cared about the dry basement and reliable furnace?
After talking to a slew of realtors, contractors and architects, the consensus was yes. "If the roof is leaking, buyers won't get beyond that," says Ron Phipps with Phipps Realty in Warwick, R.I. "I don't care how awesome the kitchen is."
According to Remodeling Magazine (http://www.remodeling.hw.net/) you're less likely to recoup your investment in a major kitchen or bathroom remodel than you are to get back what you spend on basic home maintenance such as new siding. Siding replacement recouped 92.8 percent of its cost, according to the study. The only home improvement likely to return more at resale was a minor (roughly $15,000) kitchen remodel, which returned 92.9 percent. Replacing roofs and windows were also high on the list, returning 80 percent or more at resale.
"Buyers want to take the basic systems for granted," says Sal Alfano, Remodeling's editorial director. "They assume the roof doesn't leak and the air conditioning and plumbing work. Maintenance can chew up a lot of cash quickly, and people are afraid of that."
That's not to say that granite counters and steam showers don't pay off; kitchen and bathroom remodels continue to be two of the best investments you can make in your house. "They're always right up there at the top of the list," says Alfano. "They're the big, sexy rooms that new home builders splurge on, so when buyers are shopping around that's what they want in an existing home, too."
If you're thinking about sinking some money into home improvement projects this year, keep a few things in mind. What you'll get back on your investment depends on the value of your house, the value of houses in your immediate neighborhood, the housing market where you live, how soon you sell after making improvements, and the quality of the project itself. Installing a $10,000 stove in a $200,000 house, for example, "just doesn't compute," says Ron Phipps. Nor does it make sense to update your kitchen if your house is the only house in the neighborhood with just one bathroom. Here, the scoop on home improvements that will give you the biggest bang for your buck: Bathroom additions have twice the resale value of a new bedroom.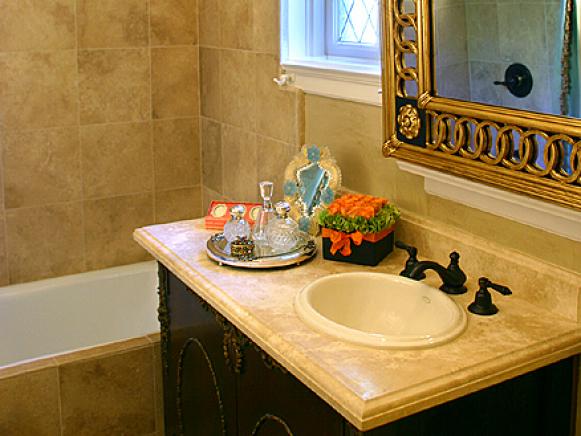 Kitchens and Baths
In the hottest housing markets, springing for a kitchen or bath remodel is a sure-fire investment, often returning more than 100 percent of the cost. In Baltimore, for instance, a $9,400 bathroom remodel recouped 182 percent of its cost at resale, according to Remodeling's 2004 study. The markets in Washington, D.C., Minneapolis, Chicago, Atlanta, San Francisco and San Diego also offered triple-digit returns on a bathroom remodel. Minor kitchen remodels (average cost: $15,273) also provided returns of more than 100 percent in cities including Providence, R.I., Miami, New Orleans and, of course, San Diego, where a $17,928 investment netted $27,000 on resale.
Kitchens and baths are the areas in a home "where you can tell if money has been well spent or not," says architect Steve Straughan, a partner in Los Angeles-based KAA Design Group. "They're the most expensive areas of the home in terms of construction. And they're where people spend time in their homes."
Here are some considerations to keep in mind when planning a bath remodel.
So exactly what should you improve when you redo your kitchen or bathroom? Think traditional: all-wood cabinets, commercial-look appliances, natural wood or stone floors and stone countertops. Walk-in showers have replaced whirlpool tubs as the must-have cleaning machine in bathrooms, Straughan says. His clients will "forgo the tub to have a big walk-in shower" if they don't have room for both. "Most people don't have time to take a bath," Straughan points out. "So a lot of time you're giving away all that square footage for a tub that rarely gets used." Floor-to-ceiling steam showers are also hot (so to speak).Two key points to consider, however: First, don't spend money remodeling the bathroom if it's the only one you've got. Your money is better spent adding a second bath. Many people love "the charm of older homes," says Long Beach, Calif., based realtor Dick Gaylord. "But a number of older homes lack a sufficient number of bathrooms. So if you've got a four-bedroom, one-bath home, it's certainly going to pay to add a second bathroom." A National Association of Realtors study by Florida State University professors G. Stacy Sirmans and David Macpherson found that adding a bathroom increased the sale price of a home by 8.7 percent, more than twice the rate for adding a bedroom.
Second, if you're not planning to move in the near future, spend your money remodeling in a way that you'll most enjoy. Realtor Ron Phipps recently showed a house with a kitchen that had been remodeled just two years ago. "I opened the Viking range and the original packaging was still inside," Phipps says. The homeowners "are not cooks. The kitchen is terrific, it's magnificent, but they don't use it."
In other words, you can't measure the value you get out of your use and enjoyment of the home improvements you make. "Even if you get less than 100 percent of your money back, you're really ahead of the game over time because you get the use of all that space," says Sal Alfano.
Home Maintenance
Still, new kitchens and baths lose some of their glamour if there's water in the basement when a potential buyer comes to look at your house, says Alfano. Every homeowner's first priority should be "keeping the existing structure sound," says Don Sever, a general contractor for 18 years and president of Sever Construction in Oakton, Va. "I've been in a lot of houses where people are spending thirty or forty thousand dollars to remodel the kitchen, but then you walk into the basement and there's a musty smell because water is leaking through the foundation. To me, it's more important to resolve those items first, and get the luxuries later."
Ron Phipps suggests thinking about it from a buyer's perspective. "I was with someone recently who was going to spend money to remodel their bathroom. But the roof is two layers and 30 years old." For a buyer, knowing the roof needs to be replaced is a much bigger issue than living with a functional, but dated, bathroom, Phipps points out.
Most buyers have a limit on what they can spend for a house. If they know they don't have to spend money on the upkeep of basic systems, then they're more likely to buy the house and consider upgrading the kitchen or baths themselves. More than 70 percent of buyers who purchased existing homes knew what they were going to remodel before they even closed on the deal, according to HanleyWood's Housing Continuum Study, conducted in 2002 in conjunction with Harvard's Joint Center for Housing Studies. The same study showed that 30 to 40 percent of buyers of existing homes made home improvements within six months after purchase.
The importance of different maintenance issues varies with geographical location, too. Roof replacement (average cost: $11,376) was very important to buyers in the east, according to Remodeling, where homeowners recouped an average 96.3 percent of the cost. In the Midwest, the average return for the same improvement was just 71.1 percent.
Curb Appeal
Even in hot housing markets, the old saw holds true: "If people drive by your home and are not impressed they're not going to walk inside," says Dick Gaylord, who has sold real estate for 27 years.
"If I were going to spend money on a property, I would really work on making sure the curb appeal is strong," says realtor Ron Phipps. Phipps suggests adding a front porch to create interest to the exterior of a flat house, for instance. "You really want to convey a sense of welcome," he says. "If all your remodeling is on the inside but the outside of the house is challenging, you'll never have a chance to even show the inside."
Curb appeal is a major reason that siding replacement ranks so highly on the Cost vs. Value report, says editor Sal Alfano. Replacement siding also offers the added value of being low maintenance, an important issue for cost-conscious buyers.
More Space
Adding a room or two or five can be a good investment, particularly if you live in a hot housing market. "In the last couple of years there have been a lot of requests for additions," says general contractor Don Sever, who's based in the red-hot northern Virginia market. "Everything from adding a sunroom to doubling the size of the house." Much of the demand is driven by homeowners who want more space, but then realize they can't afford larger homes in their own neighborhood. Sever met with clients last year who wanted to fix up their house to put it on the market. After looking for homes to buy, "they decided that instead of spending money to get it ready to sell, they'd add features to make the house more livable and stay put."
Every 1,000 square feet added to a home boosts the sale price by more than 30 percent, according to the 2005 study for the National Association of Realtors.
Bathroom additions return the most, according to Remodeling magazine's report — an average of 86.4 percent. The addition of attic bedrooms, family rooms and sunrooms returned anywhere from 70 to more than 80 percent of the money spent — and that doesn't factor in the value of your own enjoyment of all that new space.
And more and more people want dedicated rooms for hobbies and crafts, says editor Sal Alfano, whether it's an exercise room, knitting room or home office.
One caveat: Don't add on so much that you price your house right out of the neighborhood. "You don't want to be the leading value for the neighborhood," warns realtor Phipps. "Although you can be at the upper end."
Bells and Whistles
For some homeowners, home improvement isn't about return on investment; it's simply about making dreams come true. Architect Steve Straughan recently finished work on a $250,000 home theater room with a 12-foot wide screen and an elaborate sound system. "There's not a home we're doing that doesn't have a home theater," Straughan says. "It's a common request across the board and typically it's a big investment." Most home theaters involve wiring speakers into walls and extensive built-in cabinetry, as well as soundproofing–"it's not something you can take with you" if you move, Straughan points out. Still, a home theater is likely to have broad appeal, so you may recoup a large chunk of your costs at resale. "A home theater makes sense," says realtor Ron Phipps. "A six-car garage does not make sense." In the high-end L.A. market, Straughan also sees demand for wine cellars, massage rooms and yoga rooms.